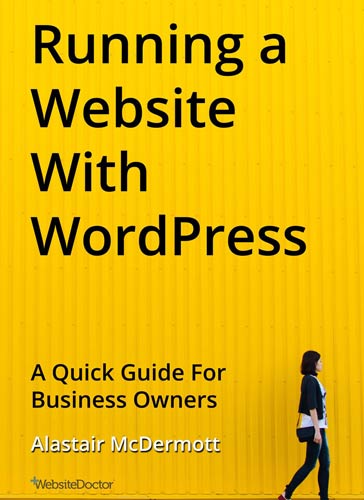 "Running a Website with WordPress: A Quick Guide for Business Owners" is full of practical advice and tips for running a successful website including crucial topics like increasing your online sales.

It's available on Amazon Kindle US for $0.99 and Amazon Kindle UK for £0.99. It'll soon be available in print edition.
Not in the US or UK & Ireland? Get a direct link for your Amazon here.
See below for a special offer on how to get it for free.
It includes:
a single change that can get you 40% more visitors
how to avoid having your website hacked (90% of site owners don't do this)
tips on choosing a hosting company
a guide to the essential types of WordPress plugins
3 simple ways to fix problems yourself and avoid calling in an expensive web developer
how to use your blog effectively
tips on researching your competitor online
links to numerous online resources for every topic
The book is composed of three sections:
Section 1 is "Website Essentials" – non-technical information useful for all website owners (even those not using WordPress).
Section 2 is "WordPress Tips" and focuses on WordPress themes, plugins, updates,and how to easily troubleshoot problems. You'll need some basic WordPress knowledge – e.g. how to install a plugin – to get the most value out of this section, but it is written with beginners in mind and you should find something there for you. There are also some advanced tips which are clearly marked.
Section 3 is "Your Website Planner", a tool to help you brainstorm ideas for your website and create & implement a plan around them.

Running a Website with WordPress: A Quick Guide for Business Owners ranked #1 in two categories on Amazon UK (11/11/2015)
What readers are saying:
"This book covers all the basics, not just of wordpress but using it to generate leads for your business" – Alan
"Very practical and useful tips for WordPress. You will get a lot of value from this guide" – Ian
"A wealth of info & resources" – A. McBride
"This book is a great overview of what you must consider when starting a website with WordPress" – Louis
Limited time offer: get the book for free
This is a special offer for a limited time only: if you purchase either the Kindle or print edition on Amazon, I will refund you what you paid. To take advantage of this offer do these two things:
Send me a copy of the receipt so I know what you paid (my email is at the end of the book), and
Write an honest review of the book anywhere you want (your blog, Amazon, GoodReads, etc) and send me the link.
I'll refund you what you paid directly to you via PayPal, or you can ask me to give it to a charity!
Short, practical guide
This is a short, 6000 word, information heavy, practical guide. This ebook is not for you if you're looking for a long, step-by-step walk-through on how to set up and run a WordPress website.
This book is for you if you're already using WordPress to run your business website and you'd like to ensure that you've got all the essentials covered and are doing things the right way.
Media/Speaking One-Sheet
For media or speaking enquiries: media/speaking one-sheet.